I never had a Nintendo back when they were the thing to have. I know, it's a shock to me, too. So I never got to play the classic Nintendo Conan game. But I did find some pics of it with a review that pretty much summed up the game as a big steaming pile of giant snake poop.

I don't know. Like I said, I haven't played it.

But now, ironically, I

do

have an old Nintendo machine (my wife got one at a yard sale for cheap) and may have to just try and hunt this game down and give it shot for when I'm feeling old-school.

Here's the cartridge...


Note the movie-style Conan logo. This was used everywhere for a while, whether it was linked to the movie or not.

Here's some screenshots I found...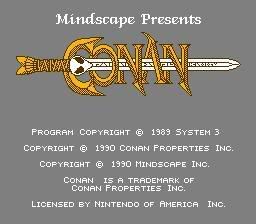 So, apparently you just walk around, jumping onto rock formations and fighting monsters...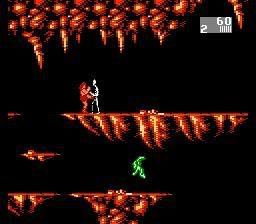 And I guess you can find useful things like swords...



And then keep track of them in your inventory...



Look out, Conan! There's some sort of lion thing over there. Maybe it's a manticore or something. I have no idea...



Anyway, the graphics are pretty lame, but all graphics were lame back then. If I find a copy of this, I'm sure I'll buy it and kill an afternoon goofing off with it, but all the while I'll be looking forward to this...




See you all next time!