Hail! Conan has been a pervasive force over the years with all the books, comics, movies, etc. So it stands to reason that any time something makes that much of an impact on a culture, there are going to be a few strange side effects. Here are a few of my favorites...

I found this pic on the Conan forums. According to the guy that owned it, it's a Conan candle that he found in Spain. Maybe it was made for little barbarian birthday parties...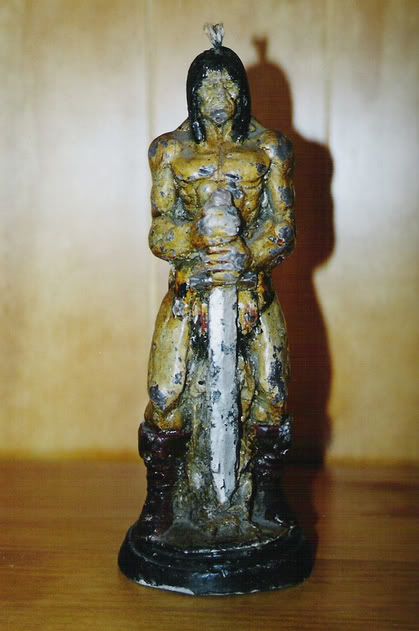 Okay, at first I thought these were crayons, then I thought they might be glue sticks, then I worried that they may be (cringe!) lip gloss! But it turns out that they are just erasers. This was clearly made in another country, though the person who posted the pic said he found the erasers in Russia. Interesting find, but I got to thinking to myself, "Erasers?

Seriously?

"



Here's what it would look like if Lego made a Conan the Barbarian playset...



I stumbled on to this screenshot of some sort of Conan video game from waaayyyy back in the day, but I don't recognize it at all. So if anyone knows what game system or year that this came from, let me know. It's obviously meant to look like Arnold, probably based on the Destroyer movie...



And finally, many people know that Conan was a thief, a pirate, a mercenary, a king... But did you know that he at one time was the onwer of a prosperous pizza restaurant?