Every now and then, I troll through ebay looking for Conan stuff, and I occasionally get lucky and find some really different things. So i thought I might as well share them with you all.

The first thing I have for you is this Conan figure model of unknown origin. It looks like it is based on the original Conan the Barbarian movie poster. From the look of the packaging, I have to say that this appears to be some sort of bootleg item made by who knows. The mold isn't that great, being kind of chunky and lacking in detail. Still, it's a cool piece of Conan history. If anyone knows about this, please let me know!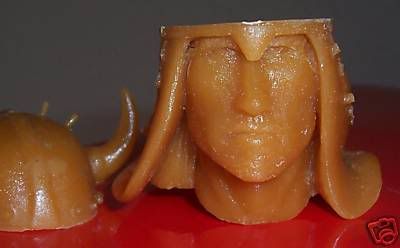 I'd love to see a fully painted version of this, just to see if it's possible to make it look decent.

Another side effect from just typing in the word "Conan" into ebay's search field is that you're at the mercy of people simply randomly naming this "Conan" when they actually have nothing to do with the character at all. So imagine my surprise at finding this hideously ugly "Conan Lamp"...




It doesn't look anything like him! I guess people think any slightly barbaric, muscle-bound figure is Conan. Go figure.

And finally, another cool thing about ebay searches is that you'll turn up some cool custom stuff. Somebody out there put in the effort to make a custom Conan Heroclix figure complete with stat card for the Heroclix collectable battle game. I don't play Heroclix, but I imagine to a Heroclix/Conan fan, this is the best thing they have ever seen!




More stuff coming soon! I'll try to start posting more regularly! I promise!